1. Short introduction
To place bids or buy unsold lots you must be logged in.
You do not have to be logged in to view ongoing and historic auctions, or to search for lots.
All logged in users can update their contact details, shipping address, phone numbers, etc.
It is possible to create and store multiple shipping addresses, in case you want to use a temporary shipping address or shift between different addresses.
Consignors can follow their consignments online, before, during and after the auction.
The homepage clearly shows the currently active auctions.
Bidding and purchasing unsold lots can be done during the auction being live.
In the "bid cart" the bidder can submit bids with a maximum purchase limit, as well as bids for alternate lots.
The current opening bids are instantaneously updated once a bid is placed.
We can offer live bidding for some auction types.
The website is mobile phone friendly.
2. Login
To improve the security, and to be able to offer more personalised functions to our users, the new website will require you to log in.
To log in you will need an email address and a password.
We recommend that you register an account immediately when you visit our new website.
When you create your password there is a function to help you choose a secure password – it indicates whether your password is too short, weak, good, or strong. The password must be at least 8 characters and consist of both letters and digits. Feel free to use special characters to increase security further. Your password is encrypted and cannot be seen by anyone else, including AB Philea administrators.
If you forget your password you can easily request a password reset, which sends an email with a link to create a new password.
Some clients have a need to have multiple accounts with us (e.g. personal and business account, or an account for a society). Historically it has been possible to use the same email addresses for multiple accounts, but from now on all accounts must have unique email addresses.
We therefore recommend that you set up different email accounts if you have a need to register multiple client accounts. You can create free email accounts at e.g. www.gmail.com or www.outlook.com.
Alternatively you can add an alternative shipping address for your society or business, and change to that address when you bid for the society/business.
3. Information for bidders
See also Bidding information under Auctions in the menu.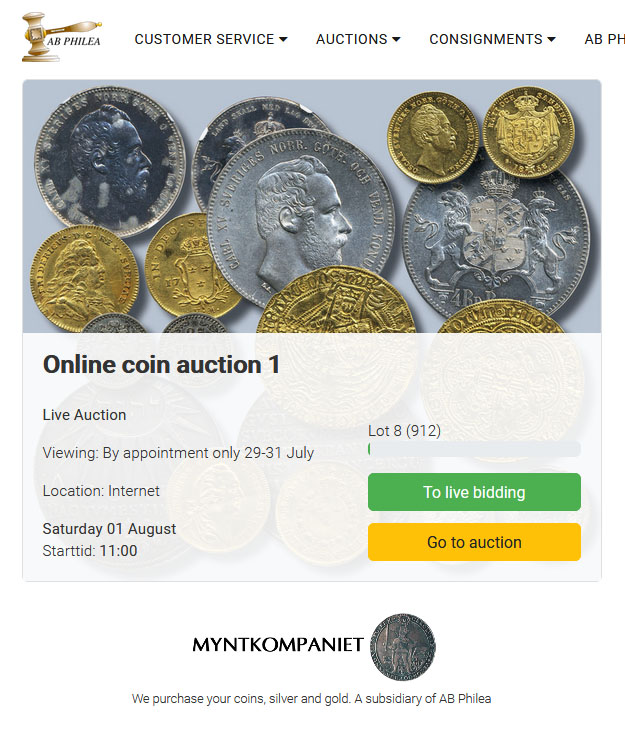 This is the front page. At this time there is just one auction. When there are multiple auctions open for bidding or purchases of unsold lots, the front page will show multiple auction panels.
To browse the auction works largely like on our old website. You can browse through the listings or use the search function to find lots that interest you.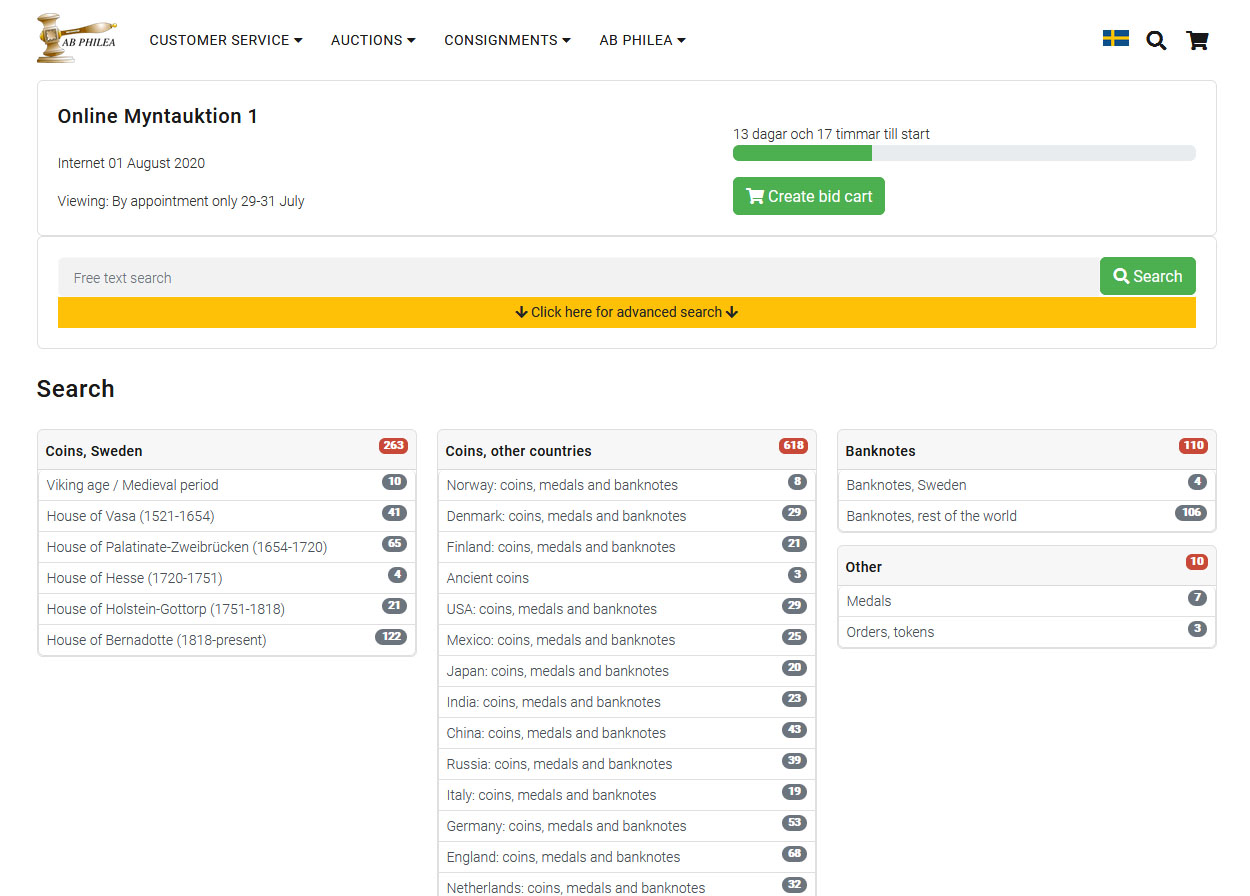 This is the search page, where you can search for the lots you want to view. You can use do free text search on any words of your own choice, or choose the category that you want to browse.
You can also click on the yellow button under the free text search field, to display the advanced search options (see next image).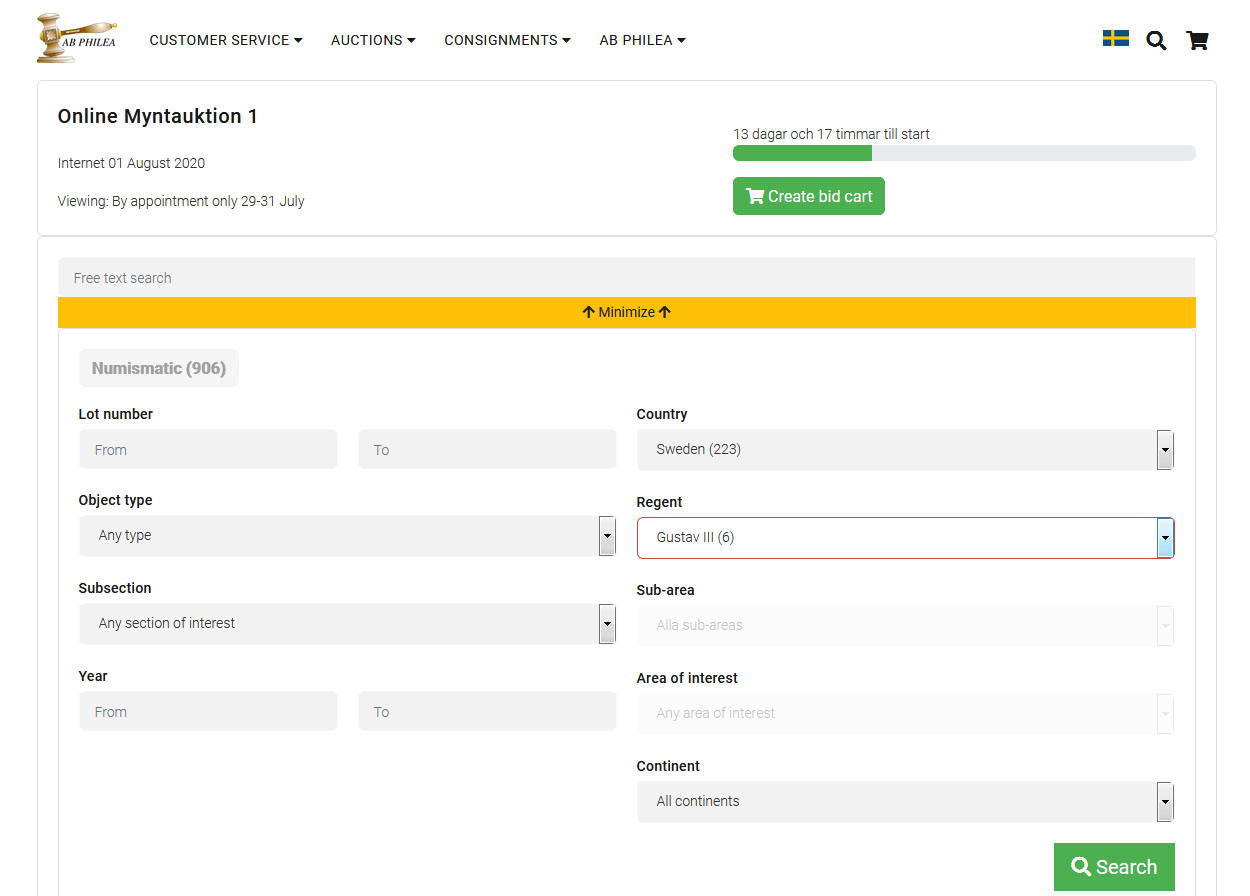 Here is an example of the detailed search options, where you can refine your search.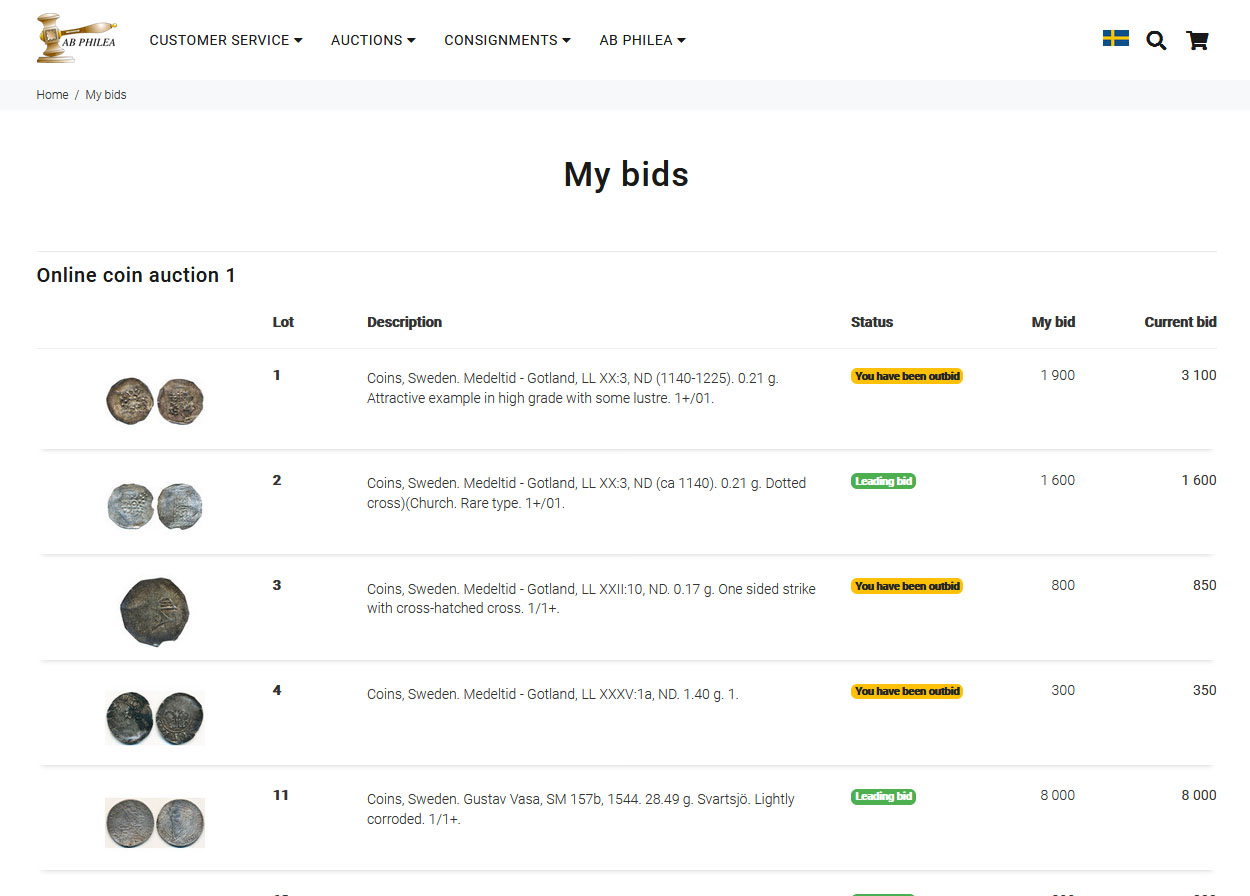 On the page My bids, under your personal menu when you are logged in, all your submitted bids are shown. The list ends with a Current bid total for winning bids (results), and a Maximum bid total for winning bids (bids).
Some lots have multiple images. To see the multiple images you must click on the lot, where you can also zoom in and out.
When you are logged in you can place bids. For each lot the lot number, picture, description, start price/reserve and current bid are shown. "Current bid" means the second highest bid plus one fixed bid increment, i.e. what the bidding will now start at.
The difference between the new website and the old website is that all bids are instantly in effect, and this the current bid immediately updates when a new bid has been placed – both during a live session and before the auction goes into live mode. You can see all your placed bids and see their current status throughout the auction, including during the live session.
Bidding before the auction goes into live session
You can place pre-bids online in our auctions in two ways:
1. You can immediately enter your bid while viewing a lot, and confirm it. This is fast and simple to do, however it does not have as many functions as using the other alternative – the "bid cart".
2. You can place your bids into a bid cart, which display at the top right of your screen. This works similarly to the customer cart in most online shops.
The bid cart can be amended before you send it in, so it is a more flexible option for bidding.
The bid cart also allows you to place bids with a maximum purchase limit, i.e. a budget not to be exceeded even if you place bids for a higher amount.
You can also place bids on alternate lots, e.g. if lots 1 and 2 are both of the same character and you only want to win one of them, you can put lot 2 as an alternate bid to 1. This means that if you do not win lot 1, your bid on lot 2 will take effect. However if you did win lot 1, your bid for lot 2 will now be ignored. To set a lot as an alternate bid to another lot, select in the dropdown menu which other lot it should be the alternative to (see the next image).
When you are ready with your bids, press "Check and submit bids". Inspect that everything looks all right, and press "Submit bid cart". Please note that you must submit your bid cart before the bids take effect.
If you do not submit your bid cart, your bids will remain in the cart the next time you log in.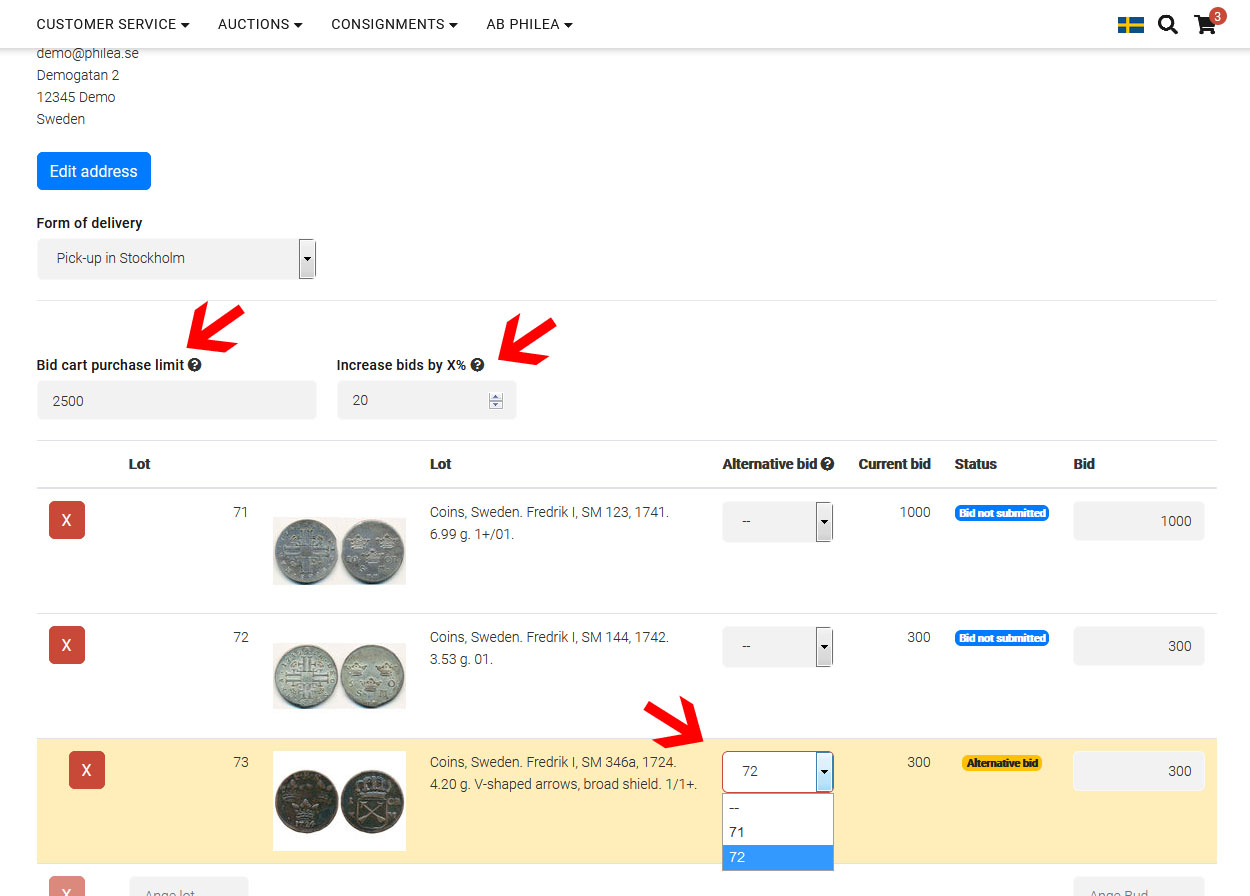 A bid cart with both a maximum purchase limit, a percentage increase of the bid amounts in the cart, and one alternate bid– see arrows.
Regardless of which method you have chosen to place your bids, we will send you an email notification if you are outbid. You can turn off this function under My account under your personal menu.
Please note that whichever method you have chosen to bid, it is impossible to bid against yourself using the same account.
All submitted bids are binding. As bids, once submitted, take immediate effect on current bid levels, outbid notifications, etc, it is impossible for us to delete or lower bids. We recommend to carefully consider your bids, and check these for errors before submitting.
Bidding when the auction has started a live session
You can place bids up to the point where the lot is hammered, using the immediate bid function under 1) above. Bid carts can only be submitted for lots that are yet to be hammered once the live session has started. There are some differences in the bidding process depending on the type of auction – see below.
4. Different auction types
Live floor auction
This is an auction that is hammered in the auction room, and the auctioneer is in control of the hammering process. Live bidding is offered online and you can bid against the auction room, phone bids and mail bids. Usually a printed paper catalogue will be produced and sent to clients that have requested it.
The auctioneer is in charge of the bidding, and will start a countdown once the bidding has slowed down. You can see the countdown having started on your screen, and as soon as another bid is received a new countdown will start. When the countdown ends, without new bids, the lot is hammered and the auctioneer will move on to the next lot. Unsold lots are available to be purchased immediately after they have been passed, for a start price plus buyer's premium.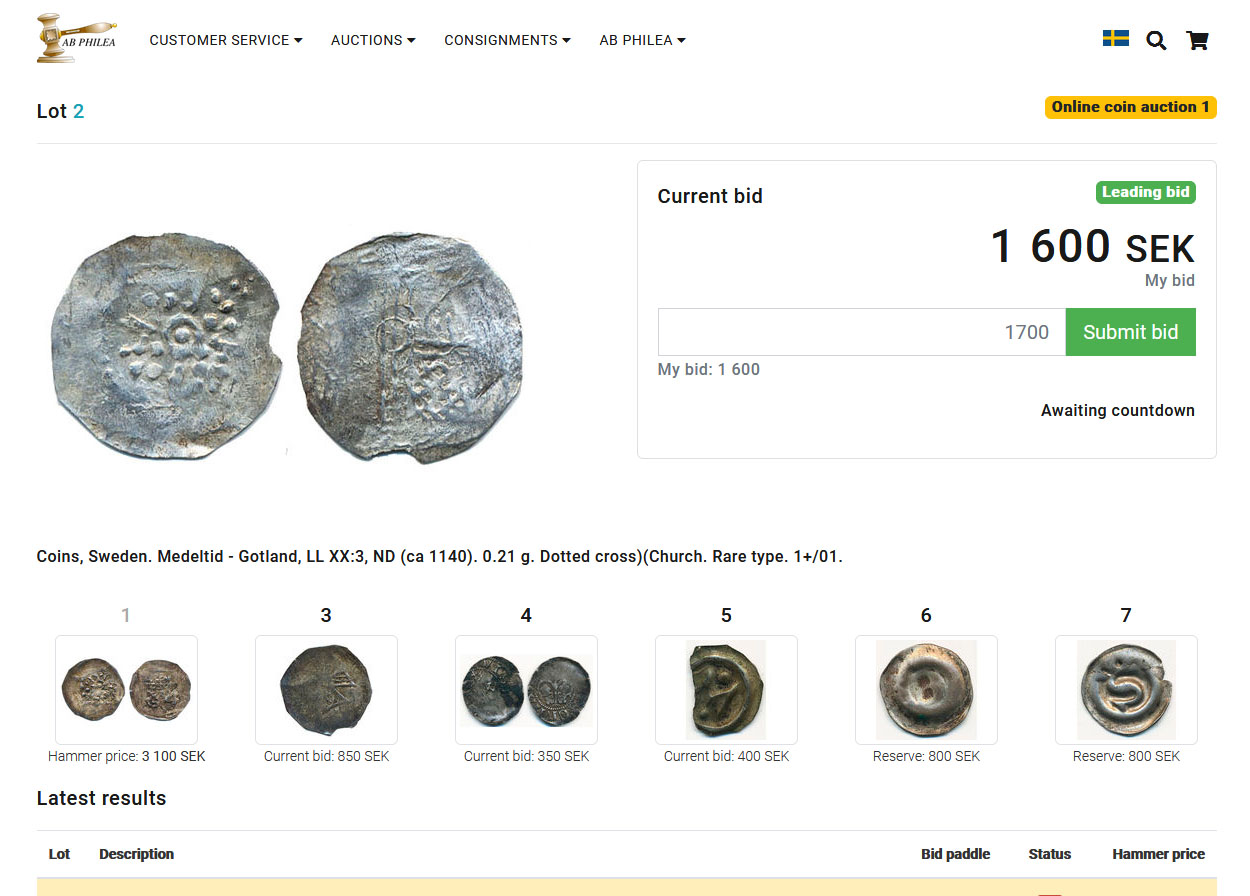 Here the auction is in progress, and the view is updated for each new bid. If you want to bid, click on "Place bid". The auction system displays the next valid bid, but you can also enter a higher amount if you know that you want to continue until a certain amount. The website uses your amount as a maximum amount, and raises your bid with one increment at a time until you have won the lot or been outbid.
Under the current lot images are shown both of a few of the most recent lots, with results, and the next few upcoming lots, with start prices.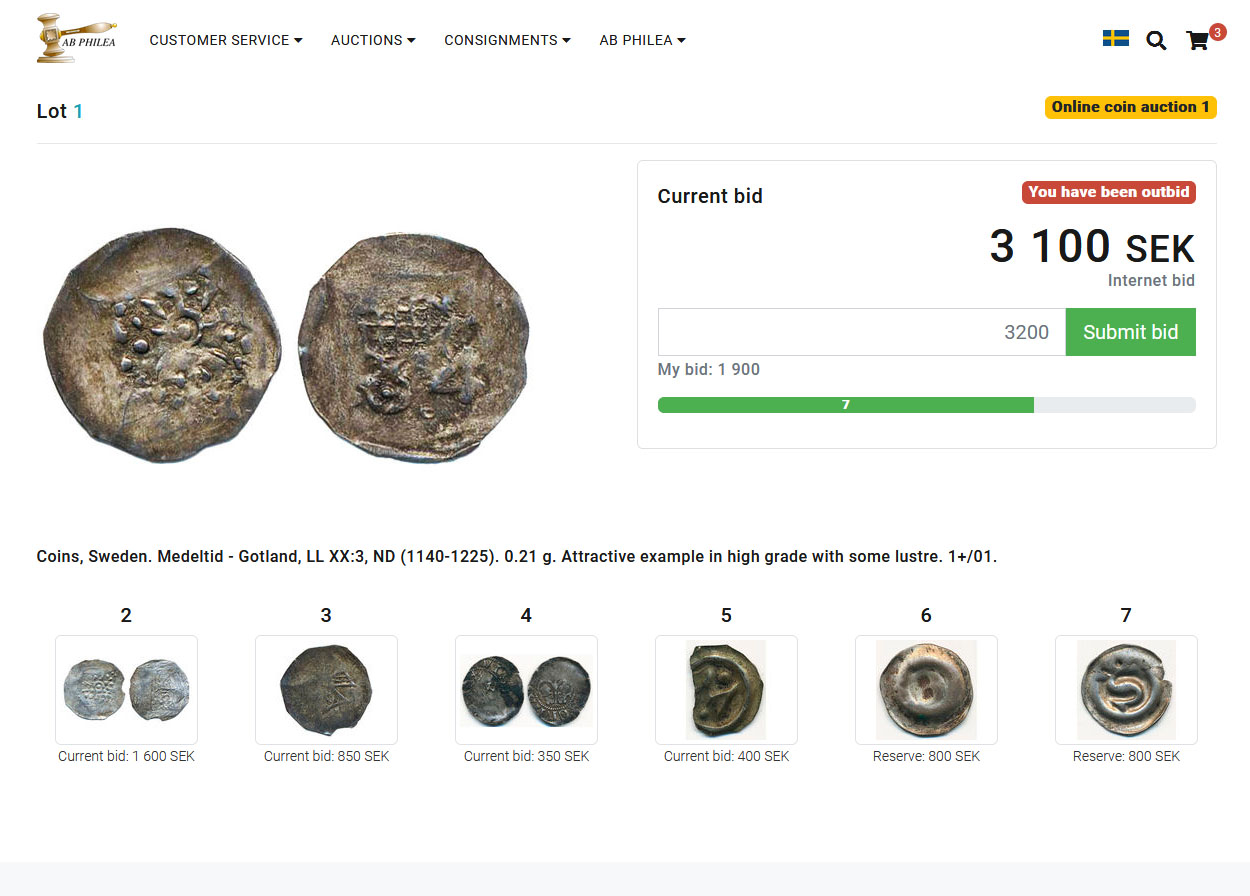 Countdown in progress.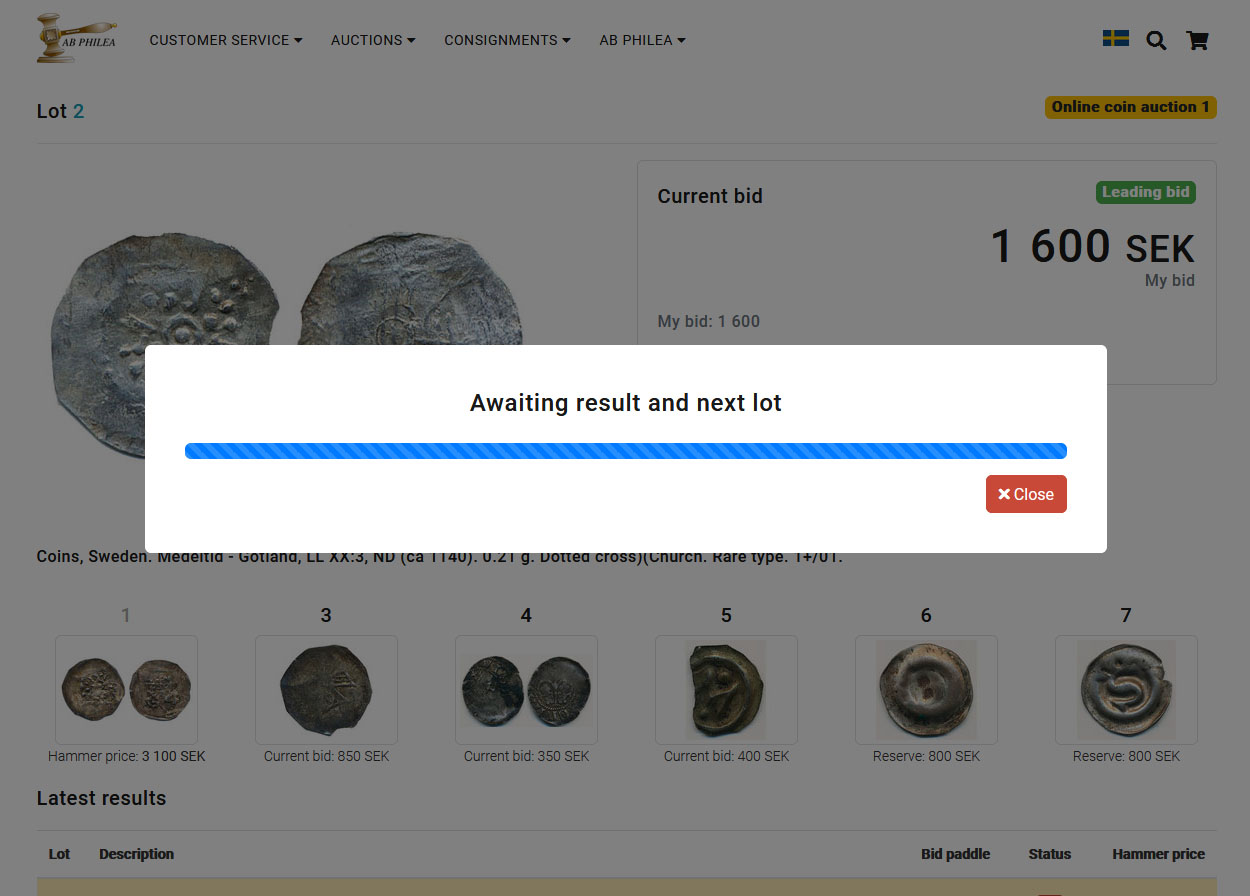 Here the lot has been hammered, and the auctioneer prepares for the new lot.
Please note that the auctioneer has the exclusive right to re-open bidding, e.g. in the event of any misunderstanding in the auction room, or with a phone bid or due to technical issues. The items are not sold until we move on to the next lot – please wait for the next lot to load, if you have won a lot bidding live online to make sure that you did indeed win the lot.
In extraordinary circumstances it could happen that a lot has to be re-opened further back than one lot. In this event it is important that you have registered a phone number, as we will try to contact all bidders if we have to re-open lots that have passed with more than one lot.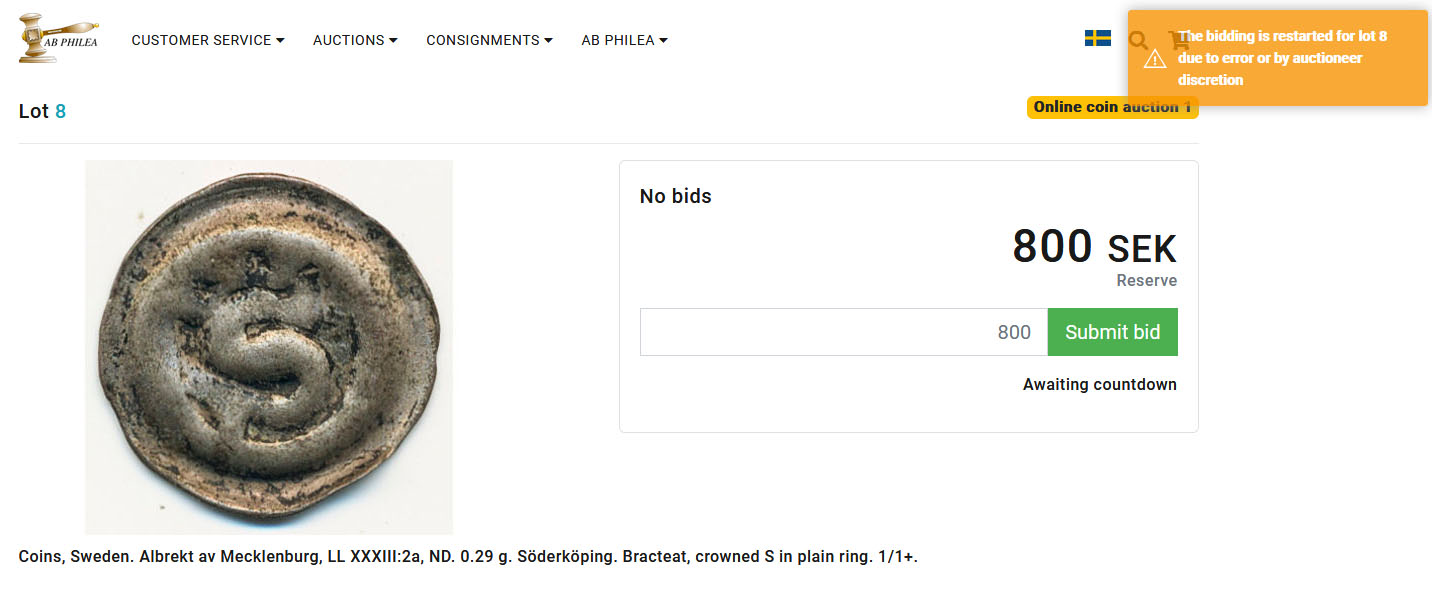 The auctioneer has restarted bidding for a lot, and an orange message panel is displayed at the top of the screen.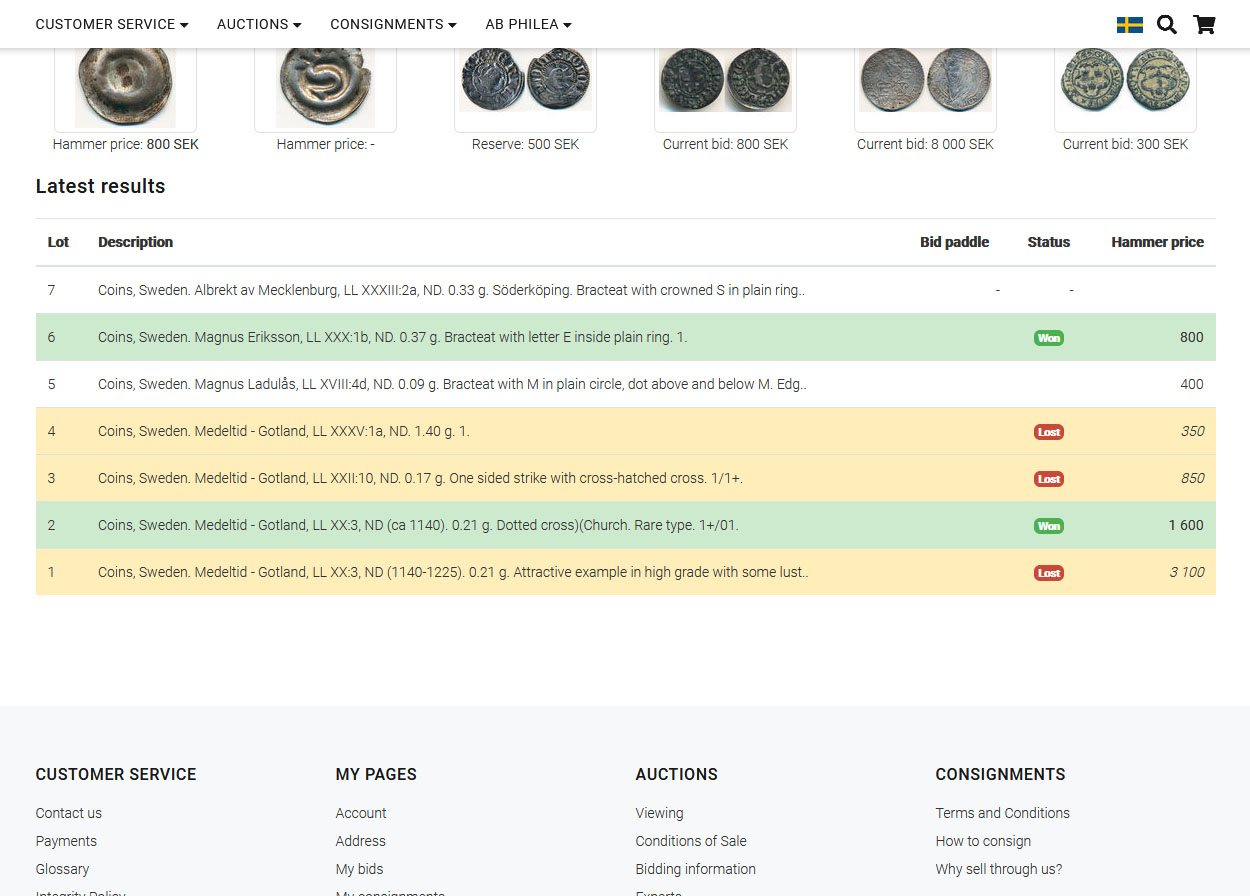 Below the current lot images are shown both for the most recent lots, with their results, and for the next couple of upcoming lots, with their start price.
Online live auction
This is an auction that is entirely run online, without printed catalogues and no floor bidding. The bidding is primarily done by pre-bid online, or live online during the auction. The auctioneering process is automatic, and lots will be hammered one by one in a similar way to the live floor auction, with a countdown at the end of each lot. Unsold lots are available to be purchased immediately after they have been passed, for a start price plus buyer's premium.
Traditional floor auction
This is an auction that is hammered in the auction room, and the auctioneer is in control of the hammering process. Live online bidding is not offered, although bids can be placed until just before the lots are opened for bidding on the floor. Usually a printed paper catalogue will be produced and sent to clients that have requested it.
Most of our auctions in 2020 and onwards are likely to be of this type, as it allows for the auctioneer to operate using a system whereby the auctioneer asks the floor for interest in lot intervals e.g. lots 1-10, and only opens the lots that the floor has an interest in. The lots that are not requested to be opened for floor bidding will be sold to the highest pre-bid (by internet, post, or other method). This process allows for up to about 3000 lots to be sold within 4-6 hours.
Please note that sometimes a floor auction moves very quickly, and sometimes very slowly in the room. This means that you might experience an uneven auction speed and certain sections move faster than you expect. Hence we recommend to leave your bids in good time and not to wait until your lots are just about to come up in the room.
Online mail bid sale
This will be a sale that is conducted online with a fixed closing time for all lots i.e. there will be no live bidding online, and no floor. These auctions will not have a printed auction catalogue.
This type of auction is often held the same day as a live floor auction, but will be presented as a separate auction on the front page.
5. Information for consignors
We will give consignors access to much information that has previously not been available online. In logged in state a new function will be that you can see My consignments under your personal menu.
This function will list all your consigned lots per auction, and during the auction show current bid levels. Sold lots will show the hammer prices, and once the auction has concluded you can see your sales total. Post-auction sales of unsold items will instantly show the items as sold in this view, so it is always up to date.
See also Terms and conditions under the menu Consignments.
6. Invoices
Starting from auction 381 in January 2021 customers will be able to inspect their invoices while logged in.
You will be able to see if the invoice is paid or not, and pay it directly by card. We show when the purchases were sent out, how they were sent, by which shipping company, and any corresponding tracking numbers. A link next to the tracking number will take you directly to the shipping company's website so you can follow your shipment there.
Please note: We work on sending out sold lots as fast as we can after each auction, but an auction results in several hundred invoices, so some deliveries will inevitably take longer to dispatch than others.
● If the invoice lacks details about shipments, the invoice hasn't been packaged and sent out yet.
● If there is a date, but there are no details about a tracking number, it usually means that the shipment has been sent as regular (untraceable) mail.
● If the details say "Tracking number pending", the shipment has been sent the given date, but we have yet to receive the tracking number from the shipping company (usually this arrives the next workday after the delivery was sent out).
Invoices will be listed under the user menu (your name) in the main menu.
7. Concluding words
Internet is becoming increasingly important in the collectibles trade – but it is yet too early to move on from the "old school" way. There are many important clients that do not have access to, or wishes not to use, Internet. Also viewings and floor auctions are important to inspect the items, and it is in many cases a social event!
We will for a foreseeable future continue to hold public floor auctions, and supply printed auction catalogues for the clients that wish to receive these.
We will aim to continue to develop our website and online offering, and offer the best from both technology and the traditional parts, and thereby reach the best results and experiences for buyers and sellers.
Our new website offers a lot more, and easier accessible information, but it has also become more complex with more functions. We have therefore tried to compile this guide with explanations and clarifications as support for users.
Over the last few years we have received many suggestions and comments regarding our website. This has been a constant source to further development, and we are grateful to everyone that has taken their time to communicate with us and share their thoughts. We hope this will continue in the future! www.philea.se is one of the most visited websites in our specific area of collectibles, and we want to make sure that our system stays among the most advanced.
Please continue to share your thoughts and ideas for further development. What functions are you missing? Do you find anything hard to understand? Do you find any bugs?
Best regards ,
Christer Svensson (Chairman of the Board), Peter Johansen (CEO), Lars Eriksson (Database administrator), Fredrik Iraktan (Programmer)